Supported Images / File Types
Customers must obtain permission from the owner of any images used (i.e. corporate logos, original artwork, and copyrighted artwork). Voler may request proof of permission before processing your order.
Do not use low resolution web graphics. These low-resolution files are not suitable for printing. Generally, a good rule of thumb is to use images 150kb or larger, or 100 dots per inch.
Filenames must not include spaces or special characters.
Voler reserves the right to refuse any order based on objectionable artwork.
Supported File Types
The Custom Express Design Studio accepts the following file formats: .jpg, .png, .gif, .ps, .pdf, .ai, .eps. The maximum width of a graphics file is 20,000 pixels. Original .AI files are preferred.
Placing Graphics
Custom Colors
If you require a color that you do not see in the available color picker, we can help. Design your jersey the best you can, and leave a note during checkout. An example note would be 'Please make the background color match the green in my logo'.
If you do not select a color from the color picker, we cannot guarantee the final printed color. However, we can guarantee that the overall jersey will match from the uploaded image to the pre-built jersey design.
Fluorescent Colors
Fluorescent inks cannot be blended with any other colors. If you have selected a design with a gradient option, like Linear, please do not select a Fluorescent color as a part of the gradient. Any orders with that combination will have to be modified during the proofing phase.
Additionally, not all images can be placed on a fluorescent background. If your design needs to be modified, one of our art representatives will contact you.
Voler Logos
All jerseys have either a chest or collar logo in addition to a pocket logo. With some color combinations, the Voler logos may disappear on the 3D design. Please note that the logo color will be changed during the proofing phase so that both logos display with enough contrast to be seen.
Matching Across Seams and Zippers
Sorry, We are unable to match or allow for graphics/text to cross seams.
Peloton jerseys, offered through the Custom Express Design Studio, feature a full hidden locking zipper. This means there is a small flap of fabric on either side of the zipper that meet in the middle. While the overall graphic is not upset, we do not recommend trying to match very small elements (i.e. small lettering) across the zipper. All garments are hand-made, so the relationship between printed elements and the zipper split may vary from jersey to jersey. If you must place an element across the zipper split, please ensure the details crossing the split are not smaller than a quarter of an inch in size. For best results we recommend them being at least a half inch or larger.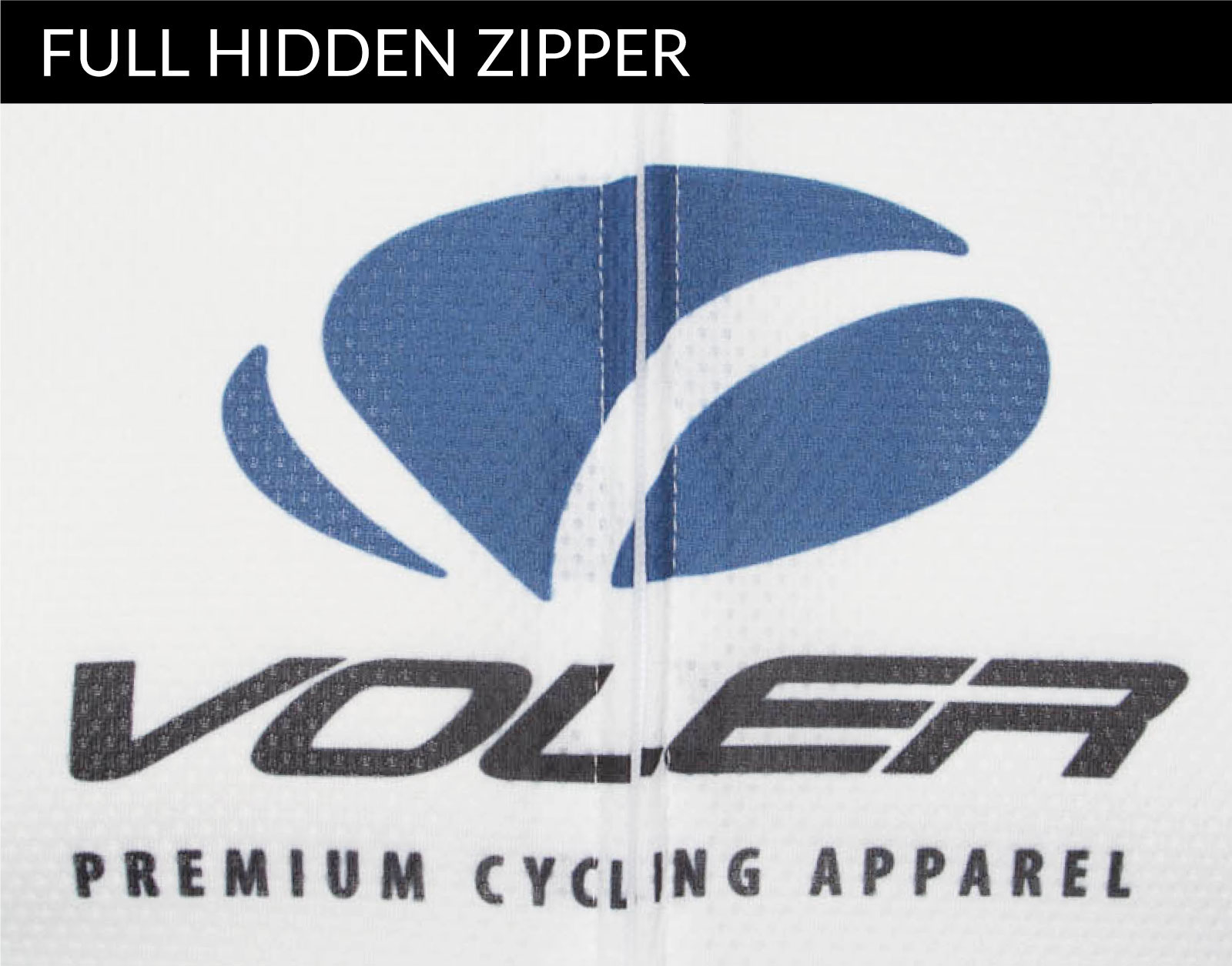 Multiple Lines of Text
Currently the Custom Express Design Studio cannot produce multiple lines of text. If you are trying to create a jersey with several lines of copy, we suggest using a word processor first. Then, when you are satisfied, save the document as a PDF and upload it as an image to your jersey. If possible, save the page small enough to fit the text without an excess of blank space. The upload tool will place the sizing handles at the corners of the actual document size, which can make the graphic difficult to work with.